Sammy's Pizza & Restaurant


Coon Rapids, MN
---
Find Us
445 – 99th Avenue Northwest
Coon Rapids, MN 55433
763-786-8400
Click here to send us a message.
Hours
Sat. - Thurs.: 11 a.m. - 8 p.m. (Bar 'til 11)
Fri.: 11 a.m. - 9 p.m. (Bar 'til 11)
Menu
Our menu features award-winning pizzas, pastas, appetizers, soups, salads, sandwiches, burgers, stromboli and desserts.

Click here to view our entire menu.
All-You-Can-Eat Buffet
Enjoy a variety of our award-winning pizzas, pastas, chicken wings, garlic bread, soups and a fresh salad bar.
Served daily from 11 a.m. - 2 p.m., plus Monday nights from 5 - 8 p.m.
Daily Specials
Happy Hour (4 – 7 p.m.)
Monday
All-you-can-eat Buffet from 5 – 8 p.m.
Tuesday (5 – 8 p.m.)
2 for $28.99 Pastas
ORDER ONLINE

Our Location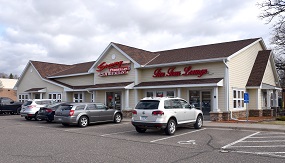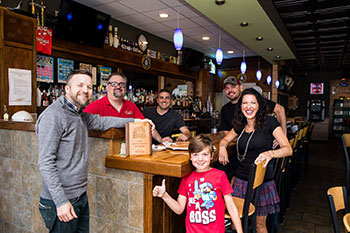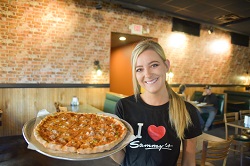 Greetings from Jeff, Joe, and Louisa (Perrella) Brooks – the grandkids of Minnesota's famous pizza guy, Sammy Perrella, who opened the first Sammy's Pizza in Hibbing, MN in 1954.

With some old family recipes and a few of their own, Sam and our Grandma Louise brought delicious homemade Italian cooking to northern Minnesota. Some of the recipes date back many generations, back to Capestrano, Italy, where our ancestors were the finest cooks around. One of our favorites growing up was great grandma G's gnocchi. We still use her recipe for that dish and many more in our restaurant to today. Everyone knew her as grandma G. That was easier to say than grandma Giansanti. Her wedding picture from 1922 still hangs in our restaurant.
When our grandparents first started, most people in northern Minnesota didn't even know what a pizza was! Their small cafe in Hibbing eventually grew to the 15 Sammy's locations (and growing) today. Sammy Pizza has become the first choice for authentic Italian cooking for generations of families. One of the reasons we are still strong is because we try and do everything the way our grandma and grandpa did things. We use the same recipes and we use the same care that has made our family proud for more than 69 years.
We all got started in the family business at a young age. We were always around it and there were always small jobs that needed to be done. When we were old enough to finally be official employees, we spent many long nights doing dishes. Once we mastered the fine art of washing dishes, we finally moved up to cooking, making pizzas, delivering, waiting tables, and eventually managing. We got our all our experience at the original store in Hibbing, which was eventually passed on to our mom and dad.
Our roles as owners began in Coon Rapids in 2004. After years of planning and location searching, and tons of help from our parents, our dream finally became a reality. We've never felt so many emotions at one time. Anxious, excitement, scared, happy, exhausted, and oh yeah ... nervous. We were so proud the first time our grandma came to our new restaurant. We don't think that her and grandpa thought that their little shop would go this far and change so many lives. It sure changed ours. Things have gone real well in our first restaurant. We've met so many great people, have excellent customers, and have reminisced with so many people about their "Sammy's Story." Over the last 67 years, many people have fallen in love with our grandparents' pizza and spaghetti.
In 2015, PMQ Pizza Magazine, the pizza industry's #1 magazine publication and website, inducted Sammy's Pizza into its Pizza Hall of Fame — which pays tribute to popular pizzerias in business for 50 years or longer and that are recognized as pillars in their community. In 2018, Sammy's was voted as 'Best Pizza in Minnesota' in Minnesota Monthly Magazine's first annual 'Pizza Bracket Challenge'.

In 2017, we spread our saucy secrets a little further by opening our second location in Elk River. There you'll find the same great creations and service that we've been proud to offer in Coon Rapids.
Take a look around our site, and you'll soon find that we make so much more than great pizza – we make works of art inspiring traditions with family and friends, as well as in the community.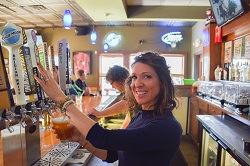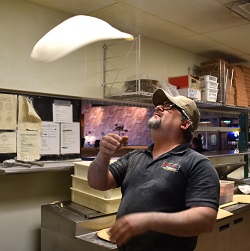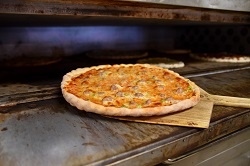 Get Social!
See what our fans are saying and join the conversation!